Transgene (Euronext: TNG),
part of Institut Mérieux, is a publicly traded French biotechnology company focused on discovering and developing targeted immunotherapies for the treatment of cancer and infectious diseases. Transgene's programs utilize viral vector technology with the goal of indirectly or directly killing infected or cancerous cells.
The Company's two lead clinical-stage programs are: TG4010 for non-small cell lung cancer and Pexa-Vec for liver cancer. The Company has several other programs in clinical and pre-clinical development. Transgene is based in Strasbourg, France, and has additional operations in Lyon, as well as satellite offices in China and the U.S.
Loading…
June 8, 2017 - Annual Shareholders' Meeting
September 13, 2017 - First Half 2017 Financial Results
October 19, 2017 - Third Quarter 2017 Financial Results
In € million


except share and per share data

2016
2015
2014
2013
2012
Revenue
10.3
9.9
11.1
15.7
13.1
R&D Expense
-26.4
-32.1
-41.7
-50.1
-48.7
G&A Expense
-6.2
-5.8
-7.6
-6.8
-6.6
Net Loss
-25.2
-46.4
-48.6
-42.9
-43.2
Net Cash Burn
-30.6
-34.8
-44.9
-45.0
-46.6
Cash & Cash Equivalents
56.2
31.6
65.9
47.9
92.9
Loss per Share (Basic and Diluted)
-0.45
-1.20
-1.26
-1.34
-1.36
Shares Outstanding
56,431,991
38,545,397
38,527,968
31,874,858
31,762,134
Years
Quarters
First
Half
Registration
Document
Annual
Report
First
Second
Third
Fourth
2017
 
2016
 
 
 
 
 
 
2015
 
 
 
 
 
   
2014
 
 
 
 
 
 
2013
 
 
 
 
 
 
2012
 
 
 
 
 
 
 
2011
 
 
 
 
 
 
 
2010
 
 
 
 
 
 
 
2009
 
 
 
 
 
 
2008
 
 
 
 
 
 
2007
 
 
 
 
 

*

 
* Available in French only
Interim Financial Reports
Quarterly Reports
Rights issue (October-November 2016)
Chairman's report on corporate governance and internal controls
Auditors' Fees
Monthly information on shares outstanding and voting rights (French only)
Share buyback program (French only)
Liquidity contract related information (French only)
Half-Year Report on the Transgene Liquidity Contract
Offering memorandum or prospectus (as appropriate)
None
Annual General Meeting information
| | |
| --- | --- |
| Stock Market | Euronext Paris – Eurolist (compartment B) |
| Reuters / Bloomberg | TRNG.PA / TNG.FP |
| ISIN Code | FR0005175080 |
| Total number of shares outstanding | 56,431,991 |
| Initial Public Offering (IPO) | March 26, 1998 |
| Local Sector Index | Next Biotech / CAC Mid 100 |
| Financial Year Ends | December 31 |
Loading…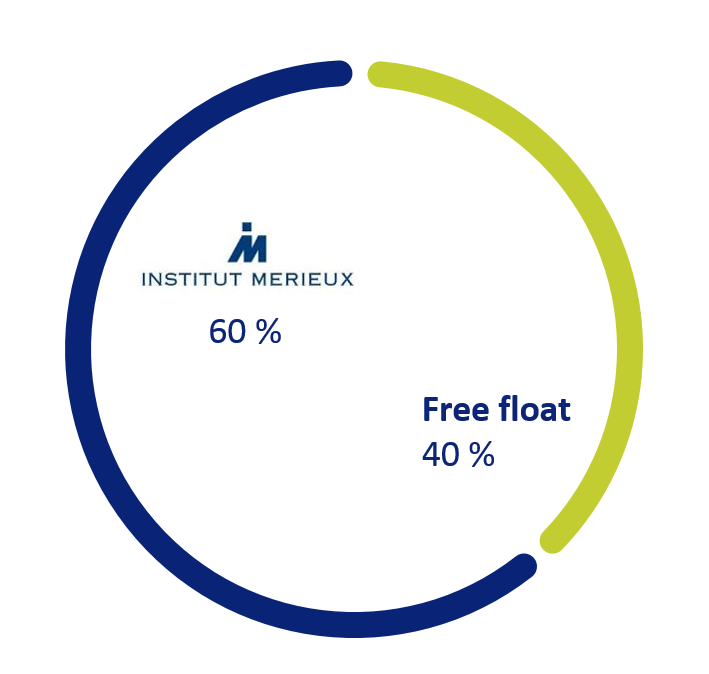 Any opinions, forecasts, estimates, projections or predictions regarding Transgene's performance made by the analysts are theirs alone and do not necessarily represent the opinions, forecasts, estimates, projections or predictions of Transgene or its management. By providing the names of the analysts or certain information from them, Transgene does not imply its endorsement of or concurrence with their reports, conclusions or recommendations. Transgene assumes no liability for the accuracy of such information and undertakes no obligation to update it.
Investor Events & Presentations
June 8, 2017 - Annual Shareholders' Meeting
September 13, 2017 - First Half 2017 Financial Results
October 19, 2017 - Third Quarter 2017 Financial Results
January 5, 2017 - Oddo Forum: January 5 & 6, 2017 – Lyon, France
January 6, 2017 - Biotech Showcase (concurrent with the J.P. Morgan 35th Healthcare Conference): January 9 to 11, 2017 – San Francisco, USA
January 26, 2017 - Biomed Event: January 26, 2017 – Paris, France
February 1, 2017 - Lond Capital Mid Small Cap Forum: February 1 & 2, 2017 – Zurich, Switzerland
March 13, 2017 - Exane BNP Paribas 19th Healthcare Conference: March 13 & 14, 2017 – Paris, France
April 19, 2017 - Kempen 10th Life Sciences Conference: April 19, 2017 – Amsterdam, Netherlands
June 9, 2017 - Kepler Biotech Days: June 9, 2017 – Paris, France
June 22, 2017 - R&D Day (in English): June 22, 2017 – Paris, France
Transgene complies with the corporate governance recommendations of the MiddleNext Code of Governance for Mid and Small Caps (the Code) (Code de gouvernement d'entreprise des valeurs moyennes et petites de MiddleNext). MiddleNext is an independent society representing midcap public issuers; the Code is largely referred to by small, mid and even large cap firms and accepted by regulators as guidance for best governance practices.
Board of Directors
The Board of Directors is currently composed of ten members, elected for renewable three-year terms. Six members of the Board are independent directors as defined in the Code. The Board is chaired by the Chairman and Chief Executive Officer. The Board has adopted a charter of internal regulations that governs the conduct of the Board of Directors and its committees. Detailed information can be found in the Registration Document.
The Board of Directors is assisted by two committees:
The Audit Committee is composed of four directors of the Board, three of whom are independent. The Vice President Finance is invited to attend each Committee meeting to present the financial situation of the Company. The Audit Committee's operations are governed by a charter that is reviewed regularly. The committee regularly reports on its work and provides recommendations to the Board of Directors.
The Compensation Committee is composed of two independent directors and is responsible for recommending to the Board of Directors the salaries, bonuses and share-based compensation to executives and key personnel of the Company.
Management Committee
The Management Committee is a non-statutory body that oversees the Company's daily operations and ensures, in all managerial aspects, that the Company's strategy is properly executed in accordance with its objectives. The committee is composed of nine members
The Company has established a number of other internal bodies and procedures, for example, for financial controlling, project management and risk management.
Annual General Meeting of June 8, 2017
ORDINARY AND EXTRAORDINARY MEETING
Location
TRANSGENE
400 boulevard Gonthier d'Andernach – Parc d'Innovation
67400 ILLKIRCH-GRAFFENSTADEN – FRANCE
Date and Time
8 June 2017 at 10am
Documents