Transgene (Euronext: TNG),
part of Institut Mérieux, is a publicly traded French biotechnology company focused on designing and developing targeted immunotherapies for the treatment of cancers and infectious diseases. Transgene's programs utilize viral vector technology with the goal of indirectly or directly killing infected or cancerous cells.
The Company's lead clinical-stage programs are: TG4010 for non-small cell lung cancer, Pexa-Vec for liver cancer and TG4001 for HPV-positive head and neck cancers. The Company has several other programs in clinical and pre-clinical development.
Transgene also owns Invir.IOTM, a new technology platform dedicated to the design of the next generation of oncolytic viruses. These multifunctional viruses are aimed at modulating the tumor micro-environment.
The Company is based in Strasbourg, France, and has additional operations in Lyon, in China and in the U.S.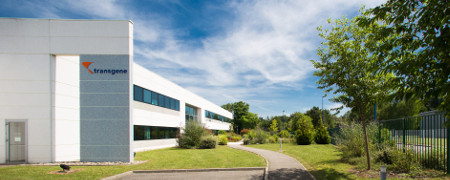 Philippe ARCHINARD, PhD
Chairman and Chief Executive Officer
Philippe Archinard became Chief Executive Officer (CEO) in December 2004 and Chairman in June 2010. Prior to joining Transgene, he served as CEO of Innogenetics, beginning in 2000. He began his professional career with bioMérieux in 1985, where he held various positions in France and the United States, including CEO of U.S. operations. Since 2014, Philippe Archinard is Chairman of the Bioaster Scientific Cooperation Foundation, an Institute of Technological Research dedicated to infectiology and microbiology. He holds a chemical engineering degree and a PhD in biochemistry from Lyon University and has completed the Program for Management Development (PMD) at Harvard Business School.
Eric QUÉMÉNEUR, PhD
Executive Vice President and Vice President, Research & Development
Eric Quéméneur joined Transgene in September 2014 as Executive Vice President in charge of Research and Development. Before joining Transgene, he spent over 20 years at the CEA (Atomic Energy Commission) where he was Director of research programs and industrial partnerships in the life science division. His responsibilities included: the management of R&D programs and their transition into applications, the management of multidisciplinary teams and the development of national and international alliances. Eric Quéméneur has a PhD in Biochemistry from the Claude Bernard University in Lyon, France. He is the author of nearly 80 articles published in international scientific journals.
Christophe ANCEL, PharmD
Vice President, Quality and Qualified Pharmacist
Christophe Ancel joined Transgene in 2008, first as Head of Quality Assurance and then as Vice President, Operational Quality. Prior to that, he was a consultant for several international pharmaceutical groups. From 2001 to 2005, he was Head of Quality, Assistant Pharmacist and Interim Responsible Pharmacist for the French production site of E. Lilly. In 2001, he was Quality Director and Interim Responsible Pharmacist for a Cardinal Health site. From 1992 to 2000, he worked for Alcon Laboratories in quality and was Assistant Pharmacist at the production site. He has international work experience in the areas of production and commercialization of sterile products. He is a Doctor of Pharmacy.
Maud BRANDELY, MD, PhD
Chief Medical Officer
Maud Brandely joined Transgene as Chief Medical Officer in March 2016. Maud Brandely was previously Director of Clinical Development at Pierre Fabre Oncologie until February 2016. She was responsible for all clinical trials from Phase I to Phase III trials. As such, she was involved in the successful registrations of Navelbine oral in breast cancer and NSCLC and vinflunine in transitional cell carcinoma of the urothelial tract. Prior to Pierre Fabre, Maud Brandely was Director of Taxotere clinical development at Rhone-Poulenc (RPR, now Sanofi) and was responsible for setting up global registration of clinical studies in both the US and Europe. As such she shared her time between Collegeville and Paris to oversee her US and European teams. Before RPR, she worked at Hoescht-Roussel-Uclaf (now Sanofi) and was involved in the development of cytokines (Il2, IFN) and cytotoxics. Maud is an MD and obtained a PhD in Immunology.
Jean-Philippe DEL
Vice President, Finance
Jean-Philippe Del became Vice President, Finance at Transgene in 2014, previously serving as Finance Senior Director. He joined the Company in 2005 and has been responsible for management control, accounting and purchasing. Before joining Transgene, he was a financial auditor with Mazars and began his career in 2001 as a financial controller at Kronenbourg Breweries. Jean-Philippe Del has a post-graduate degree in accounting and finance (DESCF) and a master's degree from the University of Strasbourg.
Thibaut DU FAYET
Vice President, Alliance Management, Project Management & Marketing
Thibaut du Fayet joined Transgene in 2008 and is in charge of project management, alliance management and marketing at Transgene. From 2007 to 2008, he was responsible for marketing at Stallergenes. Prior to that, he held various positions in corporate strategy and business development at bioMérieux (2003 -2007) and Rhodia/Rhone-Poulenc (1999-2003). Prior to his industry experience, he spent six years working as a Management Consultant at Bossard/Gemini Consulting. Thibaut du Fayet has an MBA from ESSEC Management School and holds an MA in International Finance from Brandeis University (Boston).
John FELITTI
Vice President, Corporate Secretary & General Counsel
John Felitti joined Transgene in March 2016 as General Counsel & Corporate Secretary. Before joining Transgene, he was Associate Vice President, Corporate Law, Finance & Securities Law at Sanofi and previously held other positions in the Sanofi and the Aventis legal departments. From 1996 to 2003, he was an associate attorney at the Paris offices of the global U.S. law firm Shearman & Sterling. He is admitted to practice in New York and is a former member of the Paris Bar. After majoring in economics at Harvard University (AB 1991) and the College of Europe (MA 1993), John Felitti studied law at the University of Michigan (JD 1996) and the University of Paris II – Panthéon (LLM 1997). He also holds a business degree from INSEAD (GEMBA 2015).
Hemanshu SHAH, PhD
Vice President, Corporate Development & Medical Affairs
Hemanshu Shah joined Transgene in May 2014. Mr. Shah has more than 25 years' experience in the pharmaceutical/biotechnology industries in a variety of functional and therapeutic areas, with significant experience in oncology. Prior to joining Transgene, he was Vice President of Global Marketing and Therapeutic Area Head for Infectious Diseases, Transplantation, Immunology and Dermatology at Astellas (2012-2014). Before Astellas, he was Chief Operating Officer at Arog Pharmaceuticals (2010-2011), Chief Business Officer at Innate Pharma (2008-2010) and Vice President of Commercial Operations at GPC Biotech (2003-2008). Hemanshu Shah was Global Commercial Leader for Oncology at Johnson & Johnson (2002-2003) and held a variety of positions of increasing responsibility at Bristol-Myers Squibb (1988-2002). He has a PhD in Pharmaceutical Sciences from Rutgers University and an MBA from SUNY (Buffalo).
Philippe ARCHINARD, PhD, Chairman & Chief Executive Officer
Jean-Luc BÉLINGARD, Director
Antoine BÉRET, Independent Director, Chairman of the Compensation Committee
Jean-Pierre BIZZARI, MD, Independent Director
Benoît HABERT, Independent Director, Chairman of the audit committee
Marie LANDEL, Independent Director
Alain MÉRIEUX, Director
Maya SAID, PhD, Independent Director
TSGH, Director, represented by Dominique TAKIZAWA
Laurence ZITVOGEL, MD, Independent Director
Last update : June 2017.

Subsidiaries and Holdings
Subsidiaries
Transgene has a wholly owned subsidiary in the United States, Transgene, Inc., located in Cambridge, Massachusetts. This subsidiary represents Transgene S.A. before various bodies, regulatory authorities and clinical sites for clinical trials that it conducts in the United States.
Holdings
Transgene Tasly (Tianjin) Biopharmaceutical Co. Ltd. is a Chinese company, founded in 2010 to develop and ultimately sell biotechnology products, including those of Transgene, in China. It is jointly owned with Tasly Pharmaceuticals Group, based in Tianjin, China.
ElsaLys Biotech SAS was founded in 2013 by former Transgene executives to develop monoclonal antibodies. Transgene participated in its first financing round.