TG6002, multifunctional oncolytic virus
A new generation of multifunctional oncolytic virus, TG6002 has been designed to combine the mechanism of oncolysis (targeted destruction of the cancer cell) with the production of chemotherapy (5-FU), directly into the tumor.
TG6002 aims to attack solid tumors on multiple "fronts" while avoiding the side effects of chemotherapy.
This oncolytic virus allows the production of a chemotherapy agent directly in the tumor through the FCU1 gene. The expression of this gene in tumor cells allows the local conversion of orally administered 5-FC into 5-FU, a chemotherapy commonly used in the treatment of certain cancers.   
Sale of the rights in China
Tasly Biopharmaceutical Group Co, Ltd. acquired research, development and commercialization rights of the technology of TG6002 (T601) for Greater China in 2018. >>read the press release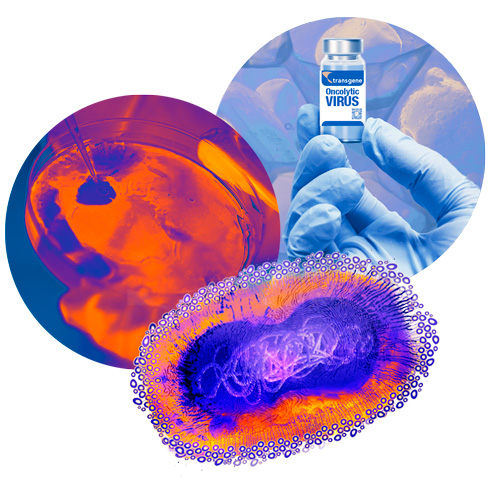 First promising results
Transgene is developing TG6002 for the treatment of several solid tumors, such as gastro-intestinal adenocarcinoma (stomach, pancreas and colon). Phase I interim results demonstrate that after IV infusion, TG6002 was detected in the tumor and induced the production of 5-FU. No major SAE have been observed.
Attacking the tumor on several fronts
TG6002 combines several mechanisms of action to:
directly and selectively destroy the cancer cells (oncolysis) by causing immunogenic cell death;
induce an immune response,, following the release of antigens during the oncolysis;
allow the production of chemotherapy (5-FU), directly in the tumor..